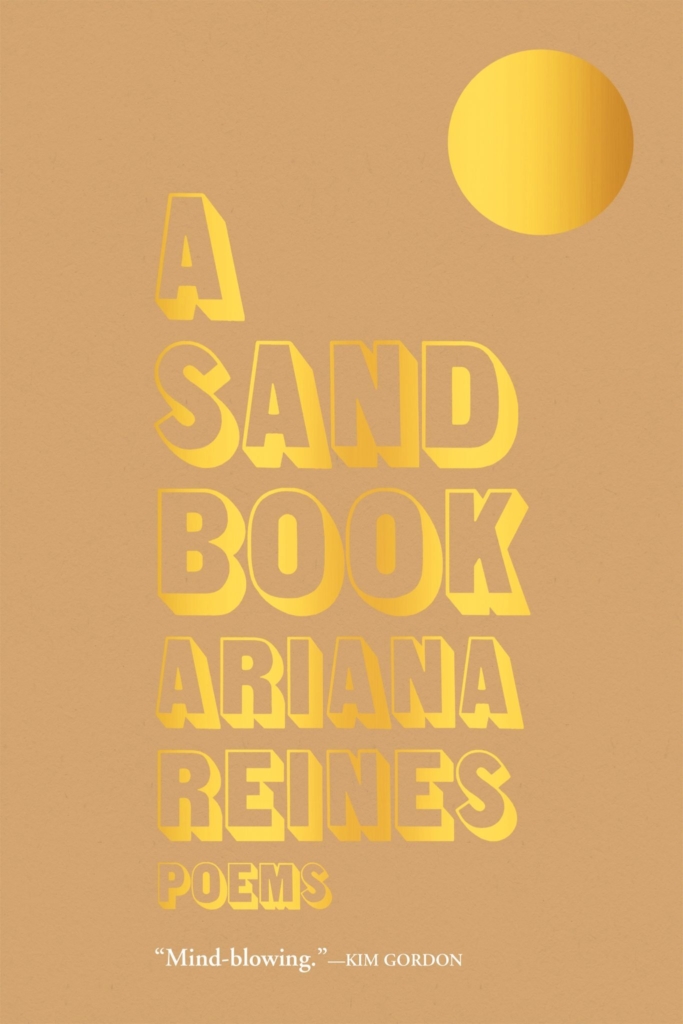 A Sand Book by Ariana Reines
Newly crowned winner of the Kingsley Tufts Poetry Award, the dizzying four hundred-page epic A Sand Book by Ariana Reines masterfully takes on issues of spirituality, consumerism, womanhood, and the occult. Moreover, Reines suggests these themes are conjured by the gross deterioration and obfuscation of language at the hand of the immediacy so latent in the digital economies of the contemporary West. In "A Partial History," Reines writes of these challenging times: "We were lost in a language of images. / It was growing difficult to speak. Yet talk / Was everywhere." In turns at times vatic and exacting, Reines traces recurring symbols and themes, spanning desertification, peacocks, and iridescence, to create a magisterial account of what it means to have a body—to be some body—in a time where speech is reduced to "talk," the images of capitalism give us no reprieve, and consumers are reduced to data that is later sold by the tech giants that govern the dehumanizing politics of today. Reines is an essential, unwavering poet, one that can see through the unending simulacra that define contemporary life, even if it takes an otherworldly, seraphic agent to direct that sight. And a "seer" is precisely what Reines is; she assures us in a portion of A Sand Book that was transmitted to her during a spiritual encounter, "THE TIME OF SPECTACLE WILL PASS," "THERE IS NOTHING A PERSON CAN'T LOVE," and "EVERYTHING HAS A NATURE / FIND OUT YOURS."
Yet, A Sand Book leaves room, too, for more quotidian raptures, the "Pleasant night…spent talking & blowing / Meth" ("To the Reader") and the "Metallic taste of old / Cherry Coke" ("Wasting Away in this Vanilla Darkness"). Reines's A Sand Book assembles a verse that can resurrect the palpability of words to pierce consciousness and restore the reader to their body—one that has, by way of the dissociating and disembodying effects of new media, long been displaced from them. As Reines rightfully reminds readers in "Son of a Jar," "There are nectars hidden / In your body. Suck your own tongue."
-David Ehmcke
Verge by Lidia Yuknavitch
In her popular 2016 Ted Talk, "The Beauty of Being a Misfit," Lidia Yuknavitch describes her history on the margins of society as a survivor of abuse, a college drop-out, and a recovering addict who spent "two lovely staycations in jail." She also discusses the work of her favorite writers, Lynne Tillman, Carole Maso and Peggy Phelen, women who inspired her during this time by "cutting a path through the mainstream with their body stories." The short stories in Yuknavitch's new collection, Verge, achieve just this. Each piece explores what it means to be an outcast through obsessively aware, and at times mournful, inspections of the body across a whole community of narrators. These narrators, rich in interior life, range from a lonely planetarium janitor to the unnamed, recurring sketch of "A Woman Signifying," "A Woman Refusing," or "A Woman (Object) exploding." But despite the shape-shifting cast of protagonists, the voice in Verge remains steady in its slow, observant beauty as if all twenty pieces appear from a single mouth.
At times Verge unfolds like a book of dark fairy tales: impossible parables of madness and grace. There is the gangly, impassioned girl who reveals an eleventh commandment to a group of schoolyard bullies. There is the girl who trafficks her body growing up beside a prison in Texas. There is the feisty girl with a mutilated hand who shuffles black-market organs. The girl who frees her fellow child sex slaves. There are a lot of girls in Verge. They arise from a variety of evil circumstances and interpret their bleak environments through the strict mode of survival. In its best moments, Verge leans into the triumphs of these girls through longer stories. The drama swells to larger-than-life acts of defiance which can rival the lofty consistency of Yuknavitch's voice. Generally though, the pieces in Verge are very short. And while it can feel a little unfair to move on from each fascinating character so quickly, the pace of reading invites a patchworked interpretation that criss-crosses between perspectives. The result is invigorating.
-Emily Mack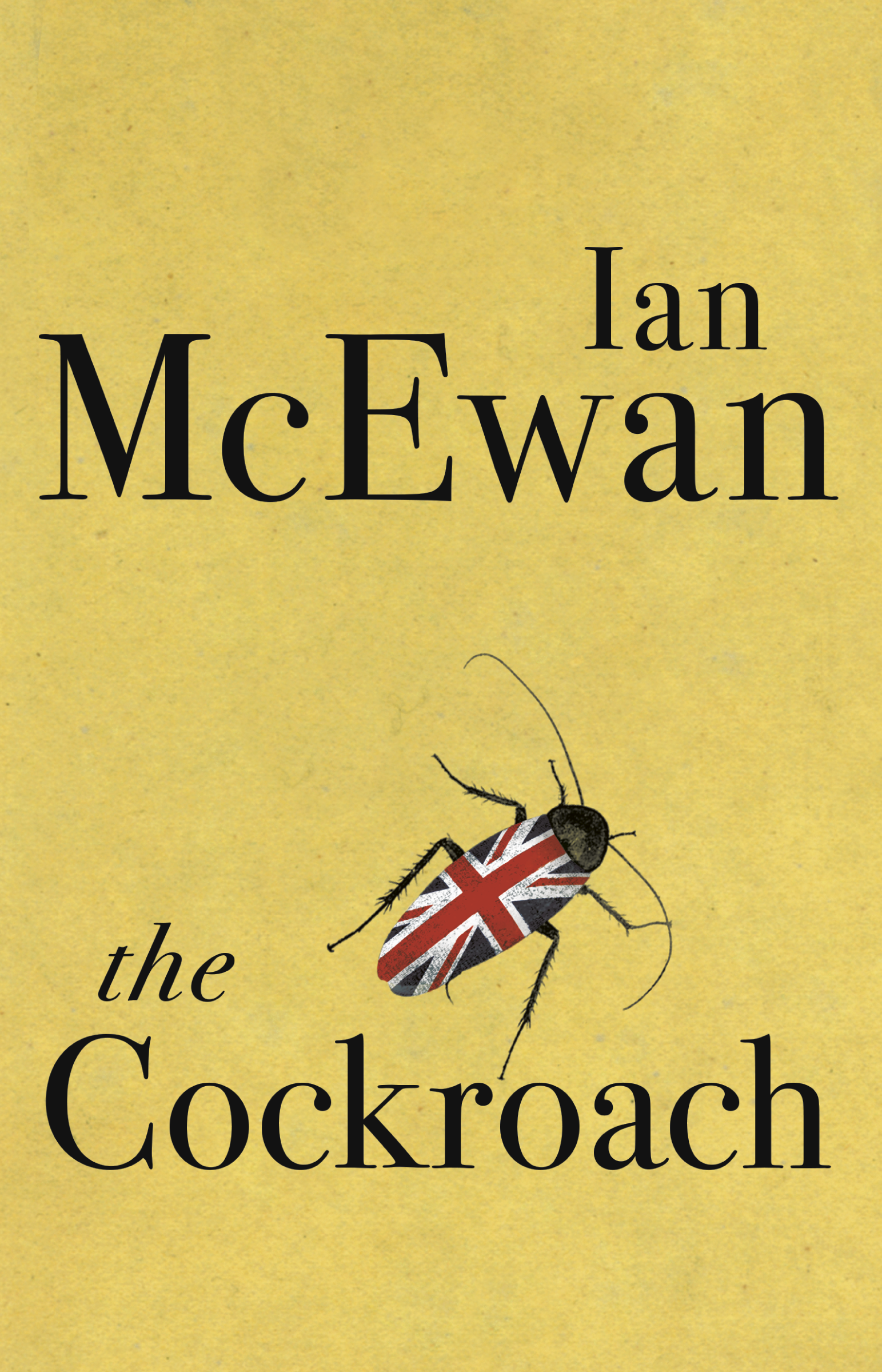 The Cockroach by Ian McEwan
Ian McEwan's latest satire, The Cockroach, perfectly captures the absurdity of not only the Brexit moment but also modern politics and its ability to present extremism in a terrifyingly digestible manner. Following Jim Sams, a cockroach that finds himself waking up in the body of the British Prime minister, this book is wittily crafted to emulate Kafka's Metamorphosis. McEwan's attention to the insect-to-human anatomy is hilariously accurate and detailed as he describes Jim acclimating to his new form. In his mouth is "a slab of slippery meat lay squat and wet" and his legs are "tuberous," notes Sams, adjusting to having his flesh outside his skeleton instead of the other way around. Jim as the cockroach is both sensitive, sassy, and unpredictable as he combines his knowledge from his experience as a cockroach with his experience as prime minister.
This commentary on Brexit becomes more and more ridiculous with the presentation of the two political parties, the Clockwise and the Reversalists. Instead of Brexit, the issue of debate between the two political parties is over a program "reverse-flow economics." The Clockwise, or the high-class elites, represent the conservatives, and the Reversalists, who believe in reversing the flow of money in a way that seems to border on insanity. Jim as the cockroach wants to convince all of the global superpowers to follow suit, overthrowing the old traditional Clockwise system and switching over to the extreme agenda of the Reversalists. McEwan emulates and pokes fun at our modern world by holding a laughable but dark mirror up to the events of Brexit. The Cockroach's light satire is pleasant and blunt, exposing the arbitrariness of policy making and buffooneries of political leadership these days.
-Cat Luo