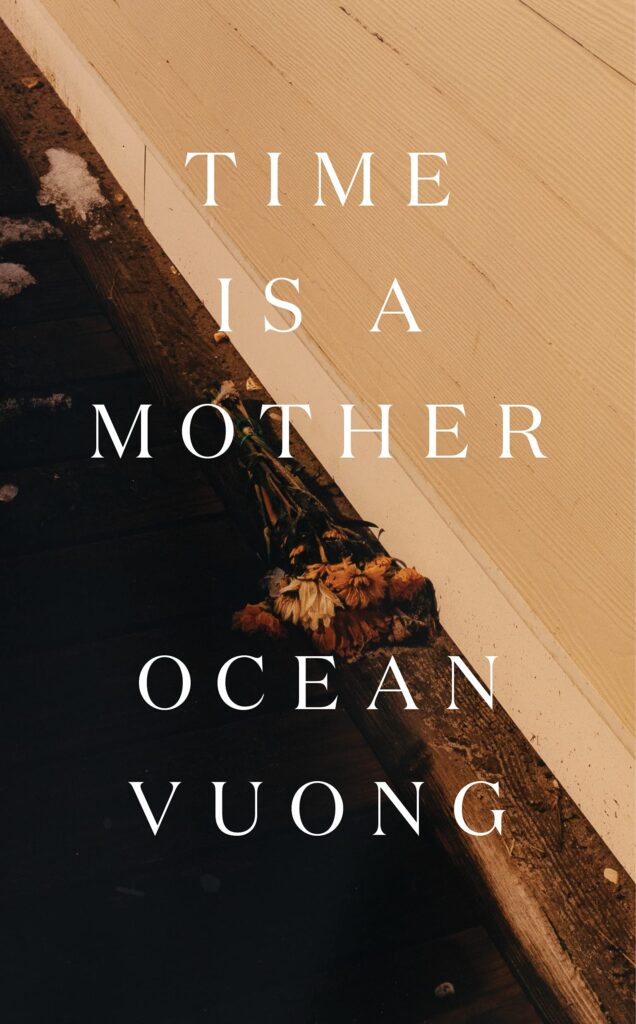 "called forward." These words mark Ocean Vuong's opening acknowledgements of his poetry
collection Time is a Mother, dedicated to Vuong's partner, Peter, and Vuong's late mother, Lê
Kim Hồng. I hold these words tight to me as I move through Vuong's writing, letting his tumbling momentum reveal what emerges from our passages of ending, leaving, dying. In reckoning with my relationship with time as an eroding force of grief for that which is no longer there, Vuong asks me to make meaning from missingness. To mother in the mess of the old. To call forward those no longer with us. Each poem highlights Vuong's fluid voice, connecting the different ways we hold memory. From epistles to online shopping carts, Vuong's poems push us to question how we archive the passing of people, history, and time.

As in his other works, Vuong continues to show his deft grasp over the paradoxes within trauma and love. However, his lyrical voice carries a unique, pressing rhythm in these poems – accelerating images of bullets, marigolds, Xanax, and cornfields fill each page with too many stories to hold onto. Details slip through my fingers, faces blur together. Perhaps that is what Vuong intends with his pacing: don't keep up, drown, and learn to live in the absence of breath.

If there is only one poem that you leave this collection with, "Amazon History of a Former Nail Salon Worker" breaks me and then holds me like only a mother could. In rummaging through Vuong's digital-footprint-as-form, my hands are sticky with the memories held within each commodity. There is a paradox in the tenderness Vuong grants to inundating us with his lists of brand names, commodity quantity, and keyword-optimized product titles:

"Jun.
Large faux-clay planter pots, value set
Carnation Condensed Milk, 6 pack
Clear Nail Art Acrylic Liquid Powder Dish Bowl, 2 pcs
Birthday Card—Son—Pop-up Mother and Son effect
Nike Elite Basketball Shorts, men's small"

Listing the purchases of each month feels like digging through the neighbor's trash. I learn so much about a life that is so alike to my own that I will never touch: each month's purchase list traces the intimate lines of abandoned hobbies and wasting bodies and mothering as labor. Without a single mention of a subject, Vuong lays death next to birthday, violence next to care, in exploring alternate forms of family history.This is what it feels like to figure time as a mother. This is what it feels like to be called forward.
–Ari X