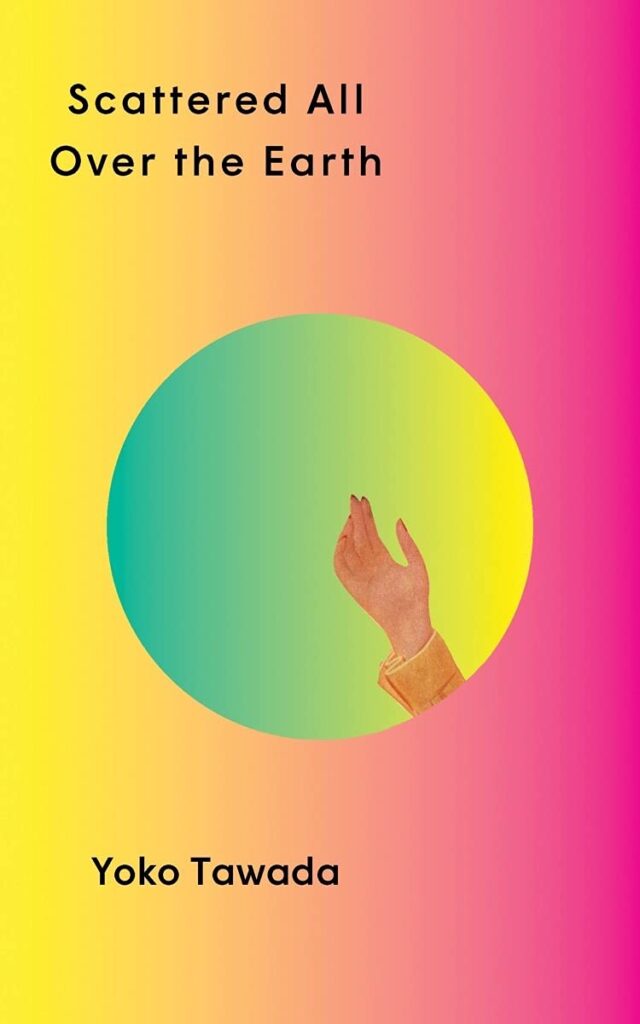 Scattered All Over the Earth by Yoko Tawada, translated by Margaret Mitsutani
Scattered All Over the Earth, the first installment of a trilogy by Japanese novelist Yoko Tawada, opens on the image of Knut, a graduate student in linguistics at the University of Copenhagen, flipping through the channels on his TV and dozing off to its unintelligible hubbub. It is in this sluggish position that he chances upon the live recording of a studio program and gradually realizes that the panelists speaking are all people whose birth countries no longer exist. Though eager to change the channel – "this was much too heavy to relax to" – he practically slides off the sofa when the face of a young woman resembling an anime heroine appears on his screen. This new speaker comes from a faraway "archipelago somewhere between China and Polynesia," or what is now better known as the "land of sushi." More so than her appearance or her story – she was completing an exchange year in Denmark when she found out that the homeland she was supposed to return to sank to the bottom of the sea – it is her strange speech that intrigues the panel. Neither exactly Danish nor Norwegian nor Swedish but borrowing from all three, "Panska" is the homemade language that she has created to communicate with all the peoples across Scandinavia. Knut becomes transfixed; he has to meet this woman. Changing into a clean shirt and pants, he runs to the TV studio, where he waits in the visitor's corner until a small, oddly walking figure appears in his field of vision. This is Hiruko, and she's about to lead Knut into a fantastic quest for the remaining speakers of her mother tongue, a quest that will eventually span five countries and almost twice as many languages.
The novel is Tawada's most formally daring work. Born in Tokyo and living in Germany since 1982, Tawada has written in both Japanese and German to equal acclaim and has always privileged polycentric narratives over nationalist agendas in developing her central themes of language and identity. It comes as no surprise, then, that her most recent book engages many diverse narrative perspectives. Broken up into ten chapters, it is narrated in turns by Knut, Hiruko and the various people they meet and recruit along the way: Akash, a trans woman from India who is desperately in love with Knut; Nora, a museum curator living in Trier; Nanook, Nora's lover and a sushi chef from Greenland who has accidentally slipped into a Japanese identity and goes by the stage name Tenzo; and, lastly, Susanoo, another sushi chef who seems to have his origins in Hiruko's lost homeland. Despite inevitable differences in tone and style, the book's plurality of voices does not result in Babel-like cacophony. Instead, it functions as a complex yet ultimately euphonic whole – a cheerful allegory for the world of ceaseless movement inhabited by the characters.
With unlikely humor and a taste for the absurd, Scattered All Over the Earth shatters the edifice of "national language" and reassembles its shards into the figure of Hiruko, an alternative Odysseus who longs for her lost homeland yet crosses ethnic and linguistic boundaries as brilliantly and seamlessly as she walks – "without lifting her feet, sliding along sideways as if she had no weight at all." If, as one narrator thinks, "people are defined by the 'place' where they end up," then Tawada invites us to be defined by all the places and spaces in-between. For these, like Hiruko's newspeak, can prove deeply creative.
—Panagiota Stoltidou