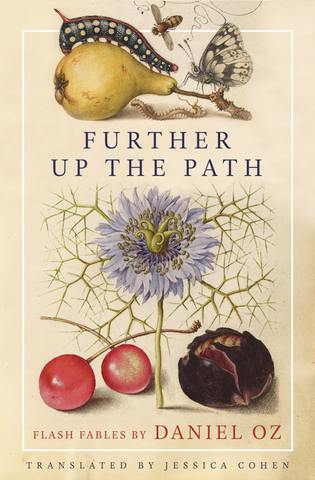 Further Up the Path by Daniel Oz, translated by Jessica Cohen
I cannot decide how one should read Further Up the Path. Daniel Oz's collection of "flash fables"—short stories, allegories, phrases, and meditations that each take up around half a page—demands to be devoured in one sitting, blending a world that feels both familiar and wholly original. And yet, I want to instruct readers to savor every bit. Take one with tea. Let them sit. Return to them again, one in the evening, another read first thing in the morning. My own copy has become littered with post-its on every story that I want to come back to.
Reading Further Up the Path made me feel like a child, anxiously trying to savor my dessert by spacing out bites, but inevitably failing. Like a child, but never childish: Oz's fables are simple and sophisticated. New renditions of fairytales often assign themselves strict limits on subject matter or time period, trying to recreate the balance between specific and universal that shapes the folkloric genre. Oz feels no such imperative; his collection mixes tales of animals and people, men and women, the past and the present, the surreal and the concrete. His ability to maintain a wide range of subjects is matched by his talent in traversing tones. He oscillates between whimsy, melancholy, joy, and fear with elegant concision. The stories are never inhibited by their length– their brevity amplifies the effect of each technical choice. In a sea of experimental prose that seems to trip over itself in order to discover the next new form, Further Up the Path is a wonderful return to the art of storytelling.
–Sasha Starovoitov
Frankissstein by Jeanette Winterson
The cover of Frankissstein by Jeanette Winterson brands itself a love story. But this is not a conventional tale of first dates and butterflies. Woven expertly together across substantial gaps in distance and era, Winterson shares three romances: Mary Shelley's intense relationship with heartbreak as she writes her seminal Frankenstein, Rob Lord's desire to mass-produce love with bestselling sexbots, and Dr. Ry Shelley's intimate yet hesitant relationship with mad scientist Victor Stein, who views Ry's transgender body as a precursor to a world beyond the body itself, where a person's essence can be uploaded and separated from conventional form.
The crux of each narrative is the human dream. What does it mean to be a body? And what does it mean to be more? The limits of humanity are pushed through the inescapable pairing of life and death, the "convenience" of a robotic woman who won't think, speak, or eat, and the experiments pulsing in a macabre tunnel below Manchester. This text blends questions of humanity raised in Mary Shelley's Frankenstein with a cuttingly modern context, and I found myself repeatedly rattled by their implications and by how palpably I already felt their stirrings in my day-to-day.
Despite the futuristic premise of a world separate from the human body, these stirrings constantly ground the characters in a hyper-realistic context. Dr. Ry Shelley encounters violent transphobia. Mary Shelley has death in her DNA. Ron Lord spews bitter misogyny. These unsettling moments are penned with equal intensity as the story's sci-fi elements, but there is nothing fictional about these passages. They deliver a jarring shift that forces the reader to reckon with a reality that's scarily familiar, regardless of the narrative's context. And as a result, the characters do not feel imaginary but, rather, pulled off the street and onto the page. Their struggle to understand the future of humanity prompted me to reconsider the same, and I emerged from the text with a renewed terror and curiosity for what lies ahead.
-Cassidy Sattler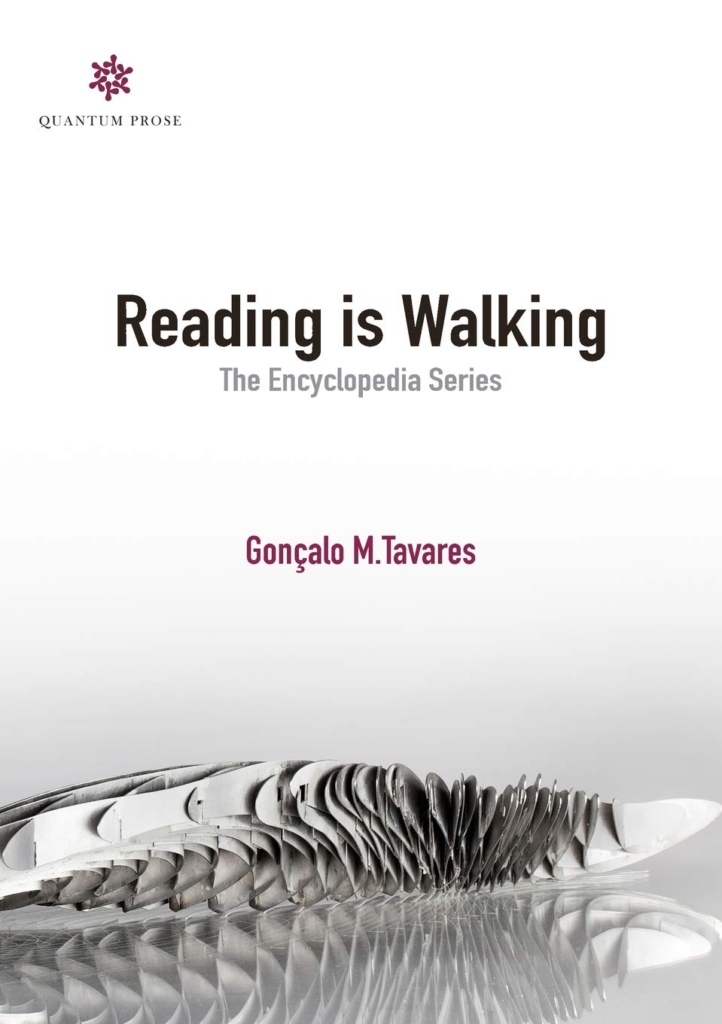 Reading is Walking (The Encyclopedia Series) by Gonçalo M. Tavares
Award-winning author Gonçalo M. Tavares wields language, abstraction, and the specific with an evident mastery in his new work, Reading is Walking (The Encyclopedia Series). A series of writings dealing with, in turn, the topics of Science, Fear, Connections, Music, and Bloom-Literature, Reading is Walking turns the abstract into a tangibility you can taste and renders the concrete at a distance, until "no country, nowhere is further away than the page [you are] reading." From the very title of his piece onwards, Tavares begins by breaking down the known world—or, rather, what we believe is known in the five modes of existence Tavares explores—before re-piecing it, reordering the fragments in a way that presents to us a variegated reconstruction that both challenges and comforts.
Thus, we find in the tapping of our feet below the desk a kind of "traversing", "an impressive march" despite our immobility. We are pushed to imagine reading as "a movement class", a "form of physical exercise" the way we would regard running, soccer, or track and field; we find that the very idea of abstraction becomes useful only if we've left "a trail of breadcrumbs in order to identify the way back." In bursts of humor and wit, Tavares leads the reader on a jaunt—through the pages, through a series of thought exercises—until we, perhaps, have precluded the possibility of return. I, for one, did not mind being left there between the pages by Tavares– not alone, but simply "lost… among the splendid ideas."
-Ilina Logani